Free Advertising from Click2Net!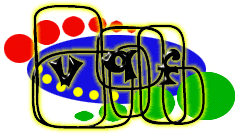 After checking the sound quality and file size of VQF (Transform-domain Weighted Interleave Vector Quantization (TwinVQ for short)) file, it amazes me that they haven't taken the audio industry and left MP3s in the dust. But the answer is quite simple, once a format have been accepted by the majority, most will stay with that format for the sake of compadibility This can also been seen with data compression (ZIP). But in all fairness, VQF deserves a little more credit than most people give it, because of same high quality sound that it can produce in a much smaller file size. Another advantage to VQF is that all the software is free. The perfect price for everyone.
The results are in and the ratios are unbelievable. A CD-Quality file compressed at the highest setting (96 kBps) has the equivalent sound as 193kBps MP3. And as you can see in the graph below a much smaller file size. About a 1:17 ratio of compression. Although the disadvantage (which is small at that) is that VQF files take a twice the CPU load to listen to because of their awesome compression size.

| | |
| --- | --- |
| VQF Players | |
| WinAmp Plugin | WinAmp In my opinion, this is probably the best player. This was created for MP3s originally but they did such a good job that this Plugin was created to read VQF files. Their latest version uses the Nitrane engine, and it supports almost all formats including MP2, MP3, MOD, XM, IT, S3M, MTM, 669, MID, WAV, VOC, STM, DSM, FAR, UTL, CDA, M3U, PLS, and ASX. It supports tons of skins and plugins. |
| K-Jofol | It is build from the mpg123 code. It supports MP3, VQF and AAC files encoded with Astrid encoder. AAC files sound better than MP3 at the same bitrate, without losing seekablility. |
| Esprit | Esprit is a music player which supports MP1, MP2, MP3, VQF, CDDA, MODs, Unreal UMX Music, MIDI, DirectMusic, WAV and AIFF/AIFC. It includes three native visualization plugins (VU-Meter, Spectrum Analyser, Oscilliscope) and also includes three conversion modules (Microsoft Waveform Audio, Apple AIFF and RAW). It also has CDDB access for CD support. |
| SoundVQ | SoundVQ was one of the first (if not the first) VQF player every created. It has a nice interface and streaming abilities like Real Audio. |
| Sonitong | Sonitong has a cool interface. It supports MP3, VQF, WAV, SH file playback. VQF support is at a minimal, but they are working on integrating it better. Its other features include a Equalizer, Crystalizer, Vocal Reducer, Techno Enhancer and Wide Stereo. |
| | |
| VQF Encoders | |
| SoundVQ | Based on a codec by Fraunhofer, it can encode at bitrates up to 256kbps. Speed had been increased by about 20% over previous versions. It can encode multiple files with different settings for each one, making it a must have for music enthusiast. |
| MBSoft Plugin | MBSoft Plugin for AudioGrabber to convert CDs to VQF. |
Please note that not all of the programs are reviewed and posted here, although that is the goal. There are some in the download section that are not list here.
Download Section

Free Advertising from Click2Net!
If you find a new compression utility that I haven't posted yet please send it to me so that I can benchmark and add it to this page.

Copyright © 1999 Egg Web